Forspoken is finally here after what feels like a million delays! As we write this the action RPG from Luminous Productions and Square-Enix is a few weeks away and we like many others are very excited about this game. Today we are looking at the different editions of Forspoken that will be available to help you figure out which one is right for you.
What Is It On & When Is It Out?
Despite more than one delay, Forspoken has now been confirmed to be released on January 24th, 2023. The game is only going to be available on PlayStation 5 and PC. Xbox owners though if they really, really want the game may find comfort in that this is a time exclusive, but from what we have read, the exclusivity does not end until 2025!
Any Pre-Order Bonuses?
Yes, there are! If you pre-order the PlayStation 5 physical edition from certain retailers you can get a special steelbook case. GameStop in the USA are also offering a set of character cards if you pre-order the PS5 physical version of the game. If you pre order either of the PlayStation 5 digital editions you get the following bonuses,
No Limits Cloak
Symbol Combo Necklace
Trigger Happy Nails
Crafting Starter Set
If you pre order either version of the game on PC you get the following bonuses,
Elite Cloak
Spectra Combo Necklace
Overclock Nails
Forspoken Physical Edition
PlayStation 5
If you like to have all your games on physical media the Forspoken Physical Edition is the way to go. This is a pretty bare bones experience as all you get is the game and the pre order content if you were to pre order. It is worth checking around as we said just before, some retailers are offering their own bonuses with this version of the game.
Forspoken Digital Standard Edition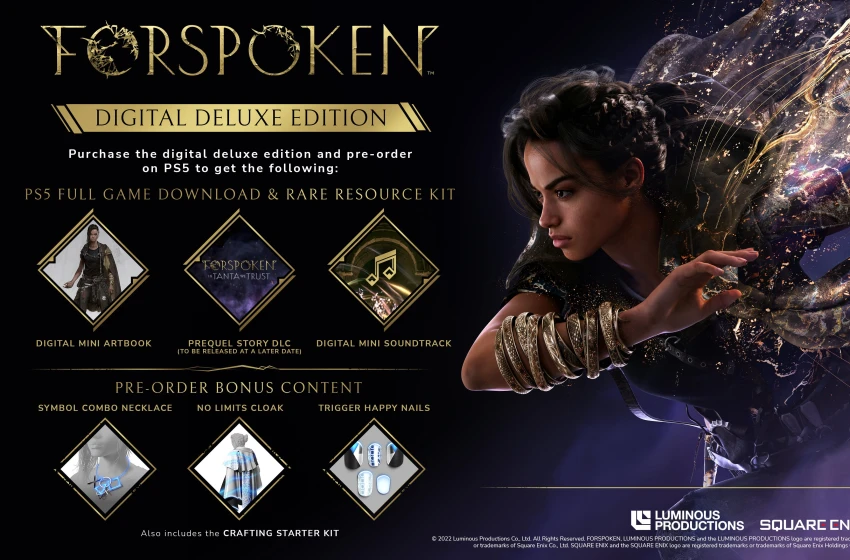 PlayStation 5, PC
This is the standard version of the game for those of you that are all about buying your games digitally these days. With this version of the game, you get the base game and that is that. You can get this on both PlayStation 5 and PC.
Forspoken Digital Deluxe Edition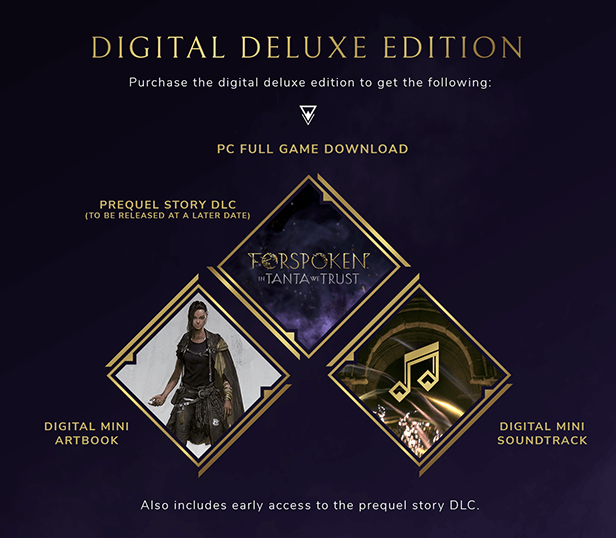 PlayStation 5, PC
The most expensive version of Forspoken is the Forspoken Digital Deluxe Edition which is available on both PlayStation 5 and PC. It is priced at around $20/£20 more, but you do get some good extra content in the form of,
Digital Mini Art Book
Digital Mini Soundtrack
Prequel Story DLC: Forspoken: In Tanta We Trust which is due for release in summer 2023
Rare Resources Kit (only listed for PlayStation)
Which Edition Of Forsaken Should I Buy?
If you are a physical game collector, you need to get the physical version and we would suggest you shop around and consider getting the steelbook, the version with the character cards or even seeing what other brick and mortar stores are offering. The Digital Deluxe Edition could be worth it if you are already super into this game as it does come with the story DLC that is due to be released in the summer. Plus a digital art book and soundtrack are always fun to have!