God of War Ragnarök is arguably the biggest game to be released in 2022 and there is some cool merch to go along with it as you would expect. Today we are looking at the Art of God of War Ragnarök which is coming out at the end of November.
While art books for huge video games are nothing new, The Art of God of War Ragnarök is doing something different, there are two versions! We have had Deluxe Editions of video games before, but is this the first time an art book has had a Deluxe Edition?
Today we are looking at both versions of The Art of God of War Ragnarök to get an idea if the Deluxe Edition is worth the extra money.
Art of God of War Ragnarök (Standard Hardcover Edition)
Ok, we are going to use Amazon in the UK as our guide here as they have both versions of the art book listed. This is priced at £44.15 which is not out of line, an art book for a game tends to be anywhere in the £25 to £45 price range. This comes in a very high-quality hardback book and as well as featuring art from the game as well as concept art. It has some interesting information about the way the game was developed too. If you are really into the series, this would a great companion piece and probably make you appreciate the game even more.
Art of God of War Ragnarök (Deluxe Edition)
There is no denying that The Art of God of War Ragnarök Deluxe Edition is something very special. You get the same art book that you get with the standard version, actually, we have done some research and cannot find for certain if there is any actual extra content in the art book itself! What you are getting is a beautifully crafted leather like case which makes this look like a book you could imagine Kratos taking off a shelf. It looks amazing and would make for a great collector's item that is for sure. As well as this, you get two very high-quality and limited to this set art prints that come in their own little folder.
There is no denying that this is a breathtaking looking set, however, it is currently priced on Amazon UK at £111,99 (its RRP is actually £116,99) which is over double the price of the standard hardcover edition. This is a massive jump in price, but as far as a collectible goes, the Deluxe Edition is far more of a collectible than the standard one, if it is worth all that extra money is up to you.
Which Is The Best Art of God of War Ragnarök Book?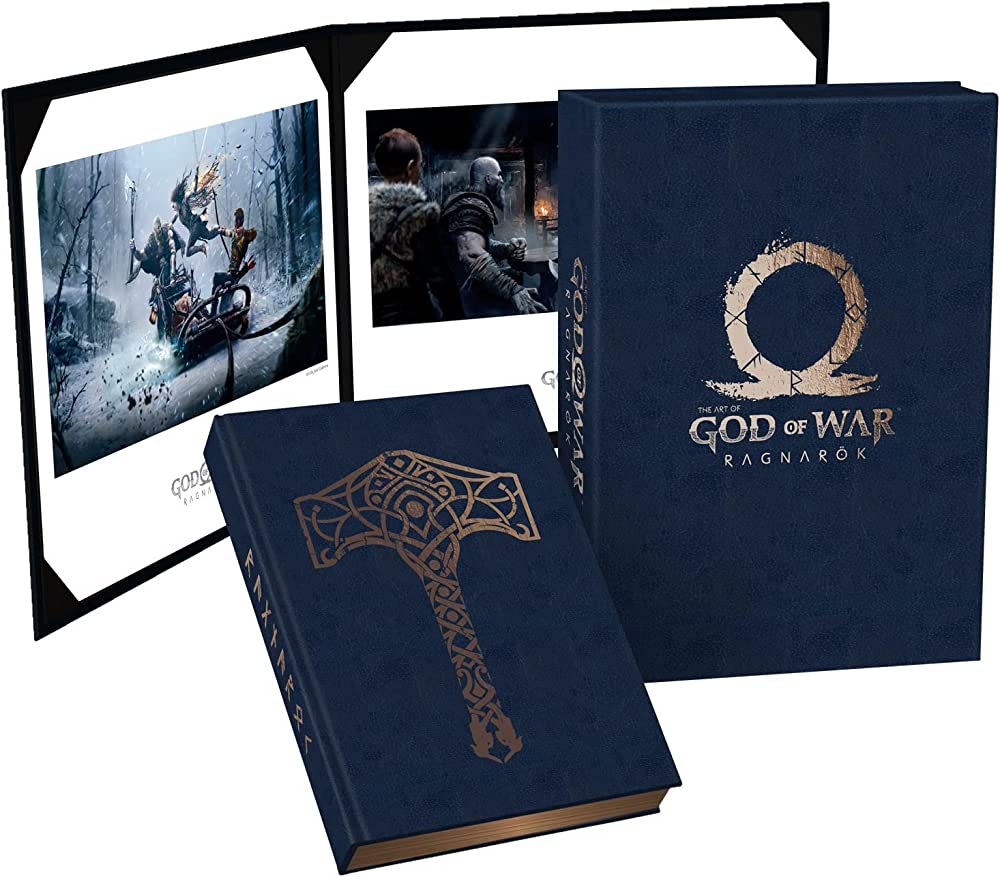 This is tough to call, you are basically getting the same artbook no matter which one you get. However, the leather style case and old-timey look of the Deluxe Edition is something that would be so cool for a God of War collector, especially if they have gone for either of the God of War Ragnarök Collectors Editions, this book would look amazing alongside them. It goes without saying, but The Art of God of War Ragnarök Deluxe Edition is really only aimed at those who are hardcore about collecting God of War merchandise. Those who just want to appreciate the art and learn more about the game would probably be best just going for the standard edition.