One of the biggest Xbox exclusives in 2023 is the latest installment in the long running Forza Motorsport series. While this is the eighth game in the series, they have ditched numbering the games and instead, it is almost like this is being treated as some kind of reboot of the series and that kind of makes sense for what they are going for. This is the biggest racing game of 2023 and today we are looking at the different versions of Forza Motorsport and trying to help you decide which one is right for you.
When Is It Out And What Is It On?
Forza Motorsport will be released on October 10th, 2023 on Xbox Series and PC. That is right, there is no Xbox One version of this game, which is perhaps why they decided to relaunch this series as just Forza Motorsport than Forza Motorsport 8.
Is Forza Motorsport On Game Pass?
Like all big Microsoft first party releases, Forza Motorsport will indeed be available on Game Pass on day one!
Forza Motorsport Standard Edition
The base version of Forza Motorsport is called the Forza Motorsport Standard Edition and this is priced at the industry standard $69,99/£69,99. This is available digitally on Xbox Series and PC, but you can get a physical version for Xbox Series as well.
Forza Motorsport Deluxe Edition
Next up we have the Forza Motorsport Deluxe Edition which is priced at $89,99/£89,99 and this is digital only. With this, you get the base version of the game, but you also get the Car Pass. The Car Pass will ensure you never run out of cars as it gives you new cars to drive each week! For an extra ten bucks, you are getting a constant release of new cars to check out so it is not a bad price at all.
Forza Motorsport Premium Edition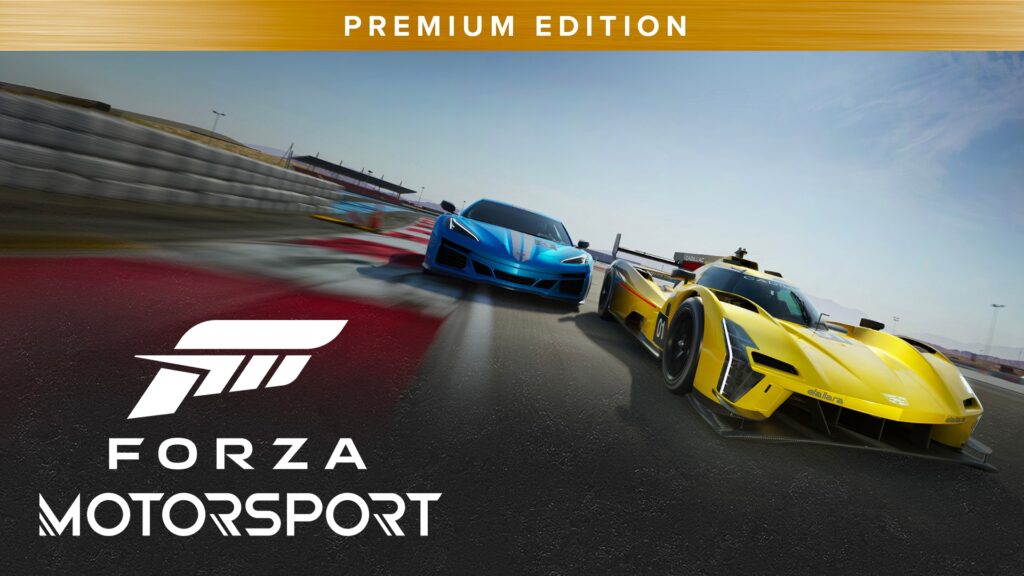 The most expensive and content packed version is the Forza Motorsport Premium Edition which is listed at $99,99/£89,99. With this, you get the Car Pass, but you also get five days early access, meaning you can play the game on October 5th. Included with the Forza Motorsport Premium Edition is,
5 Days Early Access
The Car Pass
The Race Day Car Pack: This gives you 8 never before seen in a Forza game, cars to use
VIP Pack: 2X credits, 5 Forza Edition cars, and a few other bonuses too!
Welcome Pack: Gives you five extra cars and bonus credits
Forza Motorsport Premium Add-Ons Bundle
If you want a physical copy of Forza Motorsport, but want all of those goodies that come with the Forza Motorsport Premium Edition, you can buy the Premium Add-Ons Bundle for $39,99/£29,99. This way you get a physical copy of the game and do not miss out on any of those cool extras, however, this will mean you do not get to play the game five days early.
Which Version Of Forza Motorsport Should I Buy?
As Forza Motorsport is available on Game Pass, there is no excuse to not at least try the game! However, if you are a big Forza fan and know for sure you actually want to own the game, you are probably best going for the version that gives you the most bang for your buck. For an extra 20 bucks, you are getting a ton of new cars and new cars will constantly be added. If you are a hardcore Forza player and know for sure you will be playing this until the next one comes out, you are probably better off getting either the Premium or at the very least the Deluxe Edition.