Far Cry 6 is shaping up to be one of the best games of 2021. To be fair, Far Cry is a series that Ubisoft has nailed more often than not and there has not really been a "bad" game in the series. The fact that they got Giancarlo Esposito to play the villain, "El Presidente" Anton Castillo is just awesome. Also, something that is awesome is that in typical Ubisoft fashion there are many "editions" of Far Cry 6, and finding the right one for you is what we are doing today.
Far Cry 6: Standard Edition
The standard edition is the most base version of the game you can get. In the UK you are looking at £54.99 for this in most places. If you pre-order, it does come with the Liberated Pack which gives you an outfit for the dog, Chorizo and a weapon called the Disco Locos which is a disc launcher.
Far Cry 6: Limited Edition
This is actually priced the same as the Standard Edition, but it is exclusive to Amazon in the UK. It gives you the Liberated Pack, but you also get the Jungle Expedition pack which gives you a few more bonuses in the SBS weapon, and a compass which is a charm for your weapon.
Far Cry 6: Gold Edition
Next up we have the Far Cry 6: Gold Edition which is priced at £83.99 This is probably the version you want to get if you know that you love this series and you will be going all-in with that. You still get the pre-order items from the Liberated Pack, but this also includes the Season Pass. While we do not know what this will include, we do know that it will include all three DLC packs that will be released after the game has launched.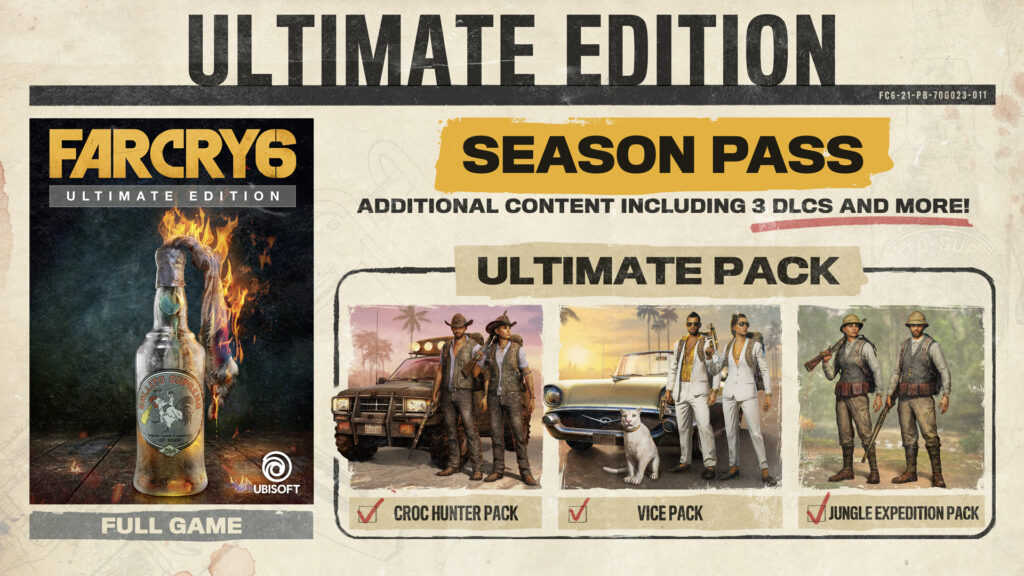 Far Cry 6: Ultimate Edition
The Ultimate Edition of Far Cry 6 has an RRP of £99.99, but as of writing on the Ubisoft site, it is listed at £91.99. With this you get the Liberated Pack for your pre-order bonus, you also get the Season Pass as well, but it comes with three other cool items. You get the Croc Hunter Pack which comes with two outfits and a cool-looking 4X4. You also get the Vice Pack which comes with some Miami Vice looking 80s outfits a cool looking Porsche type car and a white tiger for some reason! Lastly, it comes with the Jungle Expedition Pack which gives you two explorer style outfits to wear.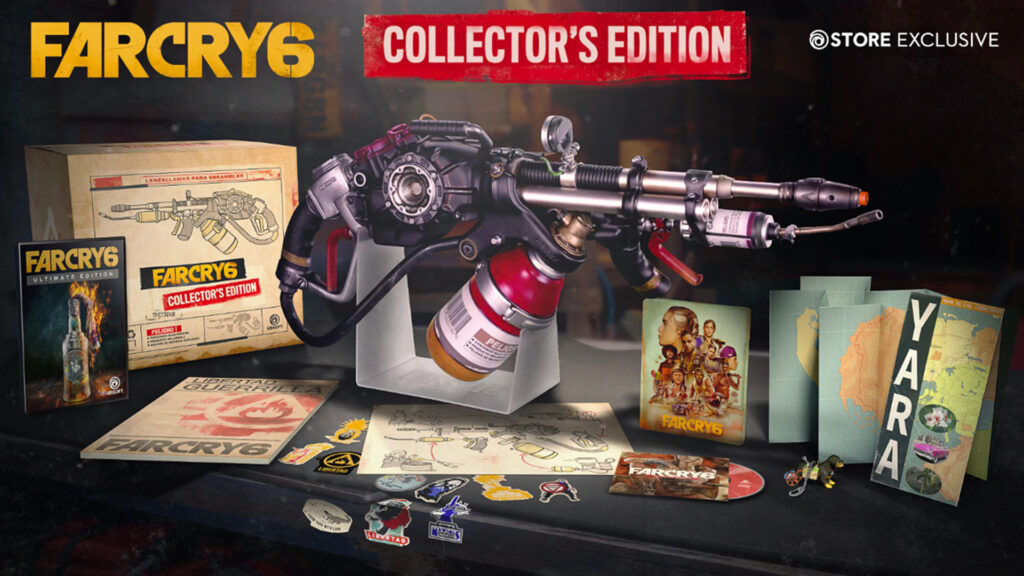 Far Cry 6: Collector's Edition
It is not a big Ubisoft game without some kind of epic collector's edition and the Far Cry 6: Collector's Edition is pretty crazy! It is priced at £179.99 I know that price seems high, but this is stacked. You get all of the stuff that comes with the previous editions, but there are some amazing physical extras, most notably the replica of the flamethrower which would look awesome in any game room. It has an artbook, a special collector's case, stickers, a Chorizo keychain, a soundtrack, and a map. Yes, this is very, very expensive, but you are getting a lot of cool stuff for your money with this. When you consider the Ultimate Edition is regularly priced at £99.99, you are only paying an extra £80 for this and you are getting a lot of physical items for that £80 if you ask me.
What version am I gonna get?
To be honest I really love the look of the flamethrower, I think as a collectors item this looks awesome. £180 is pretty steep and im not really the biggest far cru fan out here but on the Ubisoft website if you have 100 Upoints then you can get a 20% discount which brings the price down to £144 which to me is certainly respectable for all of the content you get.
As a recommendation I would say for those who are not hardcore fans and just want to play the game for what it is will be good with just the standard edition as most of these Ubisoft games like far cry, watch dogs or the tom clancy games have hours and hours of gameplay in the base game so you still pretty much get your moneys worth in the standard version of the game as sone of these games you can easy clock up to around 30-40 hours of gameplay.
For those who want to go that little extra but don't want to spend the value of the Collectors edition I would say grab the ultimate edition over the gold. I just think it works out more value for money especially with it having the current discount applied. All in all that's just my 5 cent on what I think you should be grabbing and also what I will be picking up. The annoying thing that I find with pre ordering Ubisoft games is that they are always on sale so you do feel as if you are getting slightly bumped as I can imagine this game will be reduced during black Friday. With this game coming out on the 7th of October and black Friday is the 26th of November there is a good chance for those who aint itching to play to hold off for like 7 weeks and you might be treated with a price drop, as I remember last yeae when I got Watch dogs legion on launch and 3 weeks later it was like 30% cheaper due to black Friday which was a little annoying. But I guess its whether you want to take the risk and wait as I personally want to still play Far Cry 6 on launch and I doubt the collectors edition will even be available at that point.